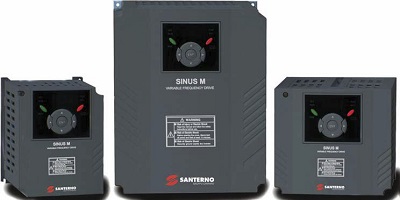 Technical Solutions 24 Seven are the UK agents for Elettronica Santerno. We can offer inverters for all applications and sizes from 2 Megawatts to 0.37Kw. Our products are listed on the governments Enhanced Capital Allowance website allowing loans and tax rebates on energy saving projects. The inverters are available with extended warranties.
We specialise in eliminating the need for bulky and costly enclosures by stocking a range of freestanding fully enclosed drives. These drives are stock items up to 132Kw in an IP54 case and can be engineered with there own mains isolation, push buttons, e-stop, etc.
As well as these large powered drives we also have a range aimed at the lower power market. Again these are freestanding IP65 and are available with a number of standard options, stop start switch, forward reverse switch, and potentiometer. We have a philosophy centred around service and making our controls simple and easy to set up and commission. The drives are available with extended warranties.